10-13-2010, 03:58 PM
Mheanne


Posting Freak



Posts: 1,084
Joined: Apr Sat 2010
Reputation: 0
[TUT]K800i to K810i
So, first of all, you'll need :
- SEToolLite 2 or XS++ (I'll show you how to use both of them)
- the MAIN and FS of the K810 firmware you want to put on the K800
- a finalisation file for the firmware
- some other files that you might need, for example the "lighteffects" fix.
[Lime]Here are the files :
Firmware + finalisation :[/COLOR]
Register to forum by clicking
here
to see links.
Register to forum by clicking
here
to see links.
Register to forum by clicking
here
to see links.
Flashing programs :
Register to forum by clicking
here
to see links.
Patches/fixes/addons :
Register to forum by clicking
here
to see links.
Drivers :
Register to forum by clicking
here
to see links.
The Service Menu:
First of all, lets find out what CDA is in your phone, that's going to be used to determine what kind of Finalisation (Customisation) we'll use.
For that, press : >*<<*<* where > is the right joystick key, the < is the left joystick key and * is of course the * key :-)
In other words, press right joystick, then the *, then twice press left joystick, then * again, then left joystick and finally the * again. Don't worry if in while you're pressing those keys some menu options are selected or the radio starts or stuff like that, just finish the key combination and you'll get to the Service Menu.
This menu can give you a lot of information about the phone. What we want for now is to note the CDA that is currently in the phone. For that, select Service Info->Siftware Info, scroll down till you see the Customisation line, note the text that's under it. For example it might be "CDA102568/207 R2A ...", we're interested in the CDA10256 part. Them when you look for customisation, search for the same CDA version.
Setup :
So, after getting the files lets start by putting the MAIN and FS files in a folder (lets say c:\K810\Files), extract (or XS++) somewhere (for example in c:\k810\XS++), copy the finalisation archive somewhere where you can find it (for example c:\k810\files).
1. Download XS++. After downloading extract the zip file.
2. Make a folder named "files_to_upload" where XS will be, in our case:
c:\k810\XS++\files_to_upload
3. Download needed files ( K810i latest firmware MAIN and FS + Custpack with K800iLighteffects ). after downloading Extract the zip file. then kunin nyo yung laman ng custpack (yung TPA folder) tapos ilagay nyo sa files to upload folder nyo.
4. Turn off your phone, remove the battery and put it back again. open XS++ and click connect, now connect your phone using your USB while pressing "C". tapos magcoconnect na ang phone.
5. Ilagay nyo yung K810_R8BA024_MAIN_GENERIC_SM_RED52.mbn sa "flash main firmware"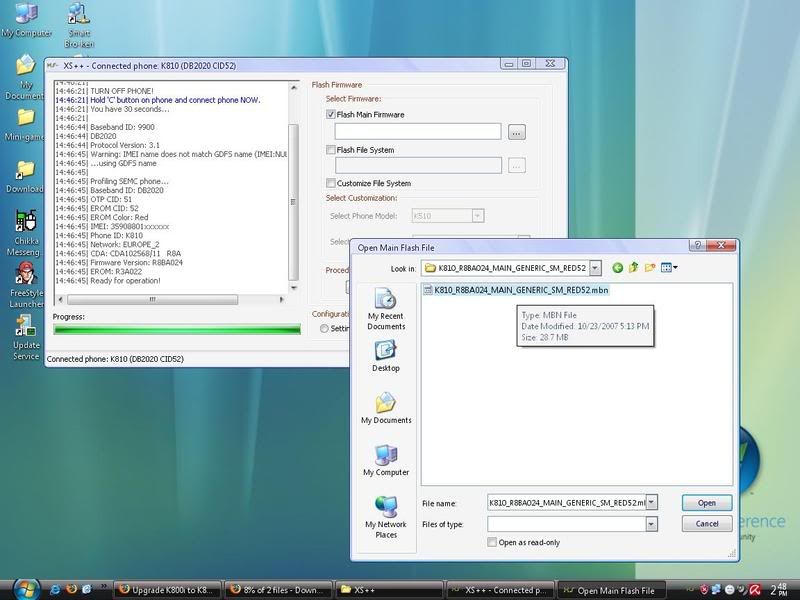 6. Ilagay nyo yung
K810_R8BA024_FS_EUROPE_2_RED52.fbn sa "flash file system"
7. Check "customize file system" tapos sa select phone model piliin nyo yung "own custpack", ganun din gawin nyo sa "Select CDA or Region" piliin nyo din yung "own_custpack"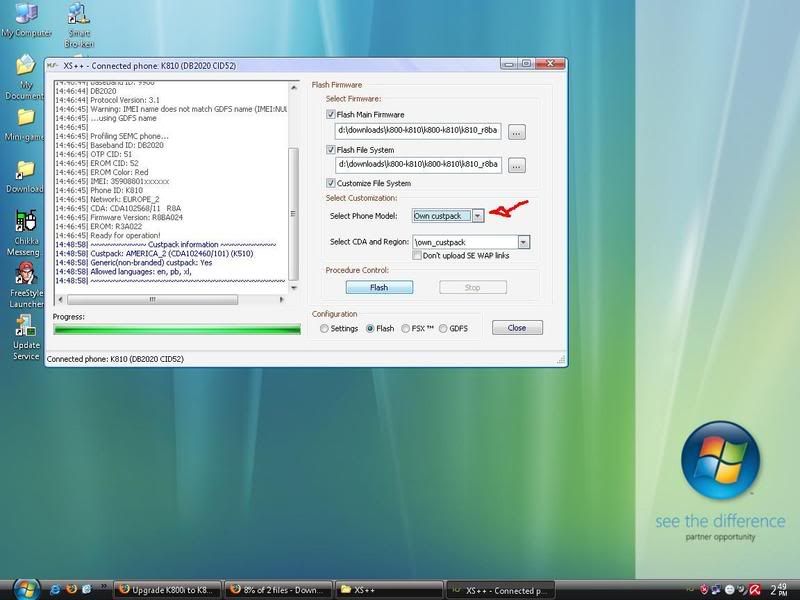 9. Click "flash", antayin nyo lang hanggang matapos. sasabihin You may unplug your phone kapag tapos na. tapos open nyo na ang phone nyo and enjoy your K800i modded to K810i.
11-08-2012, 01:04 AM
BBCAtomic


Junior Member



Posts: 3
Joined: Nov Thu 2012
Reputation: 0
RE: [TUT]K800i to K810i
Pwede bato sa CID53?

di na kasi compatible sa phone ko yan eh

meron ba kayung alam kung pano i patch to CID52?
User(s) browsing this thread: 1 Guest(s)